You can now watch me talk about this on YouTube! Check me out! The video is at the end!
The Cast
The characters in the film were a ragtag group of people who managed to be interesting separately and apart. That's always important for everyone to be interesting. The voice acting was so good that whenever I think of these characters, or see their photos, I immediately hear Cree Summer, Michael J. Fox and etc. Because this film is so underrated, the actors who bring these characters to life in live action really have the chance to build upon what we've seen already.
So, I'm going to give my top choices for the characters with a few honorable mentions if I have them for that role.
Milo Thatch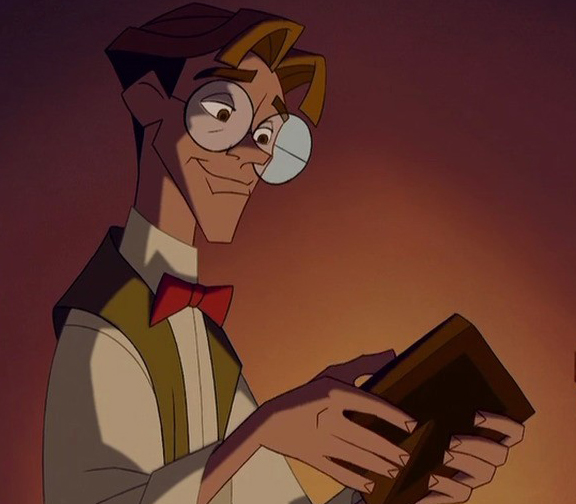 So, Milo is apparently 32!! I always thought he was in his 20s. But sure he's 32 in the animated film. I have a couple of choices for his live action role, and with my top choice it could make him a bit younger. Just a tad. But Milo is Mild-mannered, smart, friendly, funny, socially awkward, informative, knowledgeable, determined, eager, sympathetic, idealistic, heroic among many things. He has a lot of things he's really good at. He's a linguist, cartographer and of course becomes the King of Atlantis at the end of the film. Milo is a likable character, he's earnest and you root for him even though he's really naive in the beginning. He manages to pull it together even though he was a bit of an outsider with the others. So, this obviously would need to be maintained.
I've seen Andrew Garfield mentioned a lot and yes, he would be great but I think he just looks too old. I wouldn't be upset if he was cast but he looks too old. I've also seen Tom Holland mentioned which I wouldn't mind him either because I love Tom Holland and he would be great but I think Milo should be played by someone we're not too familiar with yet. So, either an unknown or lesser known.
Top Choice: Cole Sprouse
Cole Sprouse is about 27 and if they start this movie in the next two years, he'd be around the age I thought Milo was. He's currently on Riverdale and was in Five Feet Apart, and I enjoy him immensely on Riverdale, he is my favorite on the show lol. His character is very different from what Milo would be. I mean, Jughead is smart and what not, but he's not that awkward (no matter how much they tried to make it seem like he is) or even mild-mannered the way Milo is. Cole Sprouse is likable and he's goofy when he's just being himself and I think he could use something that would propel him so he's not just stuck doing meh teen romances or whatever is going on Riverdale lol. Plus, he's already dressed up as Milo for Halloween and I dug it and I need it now.
Honorable Mentions:
Grant Gustin currently plays Barry Allen/The Flash on the CW and I like him. I think he was at his best in Season 1 and I like when he's being goofy. I think Grant really shines when Barry is being goofy and awkward. Milo is like that and I think Grant could really play that and he's not too old nor does he look too old… yet lol. Dylan Sprouse is also a fine choice. I haven't seen him act recently but I'm sure he would be up for doing it.
Princess Kida
Kid is very intelligent, caring, eager, energetic, persuasive, kind, brave, resourceful, aggressive, vigilant, proud. I love her appearance, because it's so different from what we've seen. I think it's really important that she comes off as a strong person and I've been thinking of people who could portray that. I have always loved Kida, she's a Princess who isn't considered a Disney Princess, but she gets a lot of cool things to do. She's a warrior, she gets to speak another language and her look is so different from what we've seen before so I can imagine the costume designer and the hair/makeup people would love to sink their teeth into her design. Besides, I think with her hair you could do a lot of different things. It could still be white but her hair could be big and curly, it could be locs, I mean black people's hair is very versatile.
Top Choice: Keke Palmer
I like Keke Palmer a lot for Kida. I haven't seen her recently and I've always liked her. Keke could play all of her vulnerable moments and her strong/badass moments. Plus, she has this energy about her that is regal which is what Kida is even if she's a bit wild and free. I also think she'd look great in Kida's look.
Honorable Mentions:
Gugu Mbatha-Raw would be PERFECT but she's too old, especially next to Cole Sprouse who is my top choice for Milo, she could probably work with Grant Gustin, who is still younger but it might work. Zoe Kravitz is also someone I really like for Kida, and she's about the same age as Cole but she can skew a little older sometimes. Chloe Bailey was mentioned by a friend and I'd dig it lol. Leticia Wright she would be an interesting choice, but I'd be into it.
Commander Rourke
Commander Rourke is many negative things and the main antagonist in the film. He's greedy, boastful among other things. Before the movie, he doesn't start out as a villain, I mean, he has his plans and what not, and clearly, it's villainous plans because he's trying to take something from a group of people. You're not meant to like him lol. So, he needs to be someone who is charming, maybe a little bit handsome, who clearly is a leader and someone who can be ruthless.
Top Choice: Woody Harrelson
I was thinking a little hard on this one. I didn't want to pick an actor who would clearly play this role like Stephan Lang whose already played a character like this in Avatar. Woody Harrelson can play villains and while he may not exactly have the statue you would think a guy like Rourke would have, I think he could make himself have it and he would be so good in this role. He wouldn't automatically come off as a villain, he'd be charming, maybe a little bit funny and then we could see some greed and villainous intentions start to poke through
Honorable Mentions: Stephan Lang, Viggo Mortensen.
Lieutenant Helga Katrina Sinclair
Rourke's German second-in-command and lieutenant. She's very tough, cunning, short-tempered, rebellious, bold, selfish, determined, violent, aggressive, rude, sarcastic, argumentative, hot-tempered, passionate, reserved, cold, cruel, ruthless, disrespectful, obnoxious, vengeful. I got all of that from the wiki lol. She's quite an interesting character and I think they could give her a little more to work with in a live action film.
Top Choice: Diane Kruger OR Alice Eve
So, Diane Kruger because she's German (lol) and I haven't seen her in a role like this. I haven't seen a ton of her films but I would like to see her take it on. Besides, I know she's done some action things in some films so it's not like she would be totally out of her element.
Alice Eve because she has this innocent look to her but she can also look very sinister, depending on her expression. That would be good for Helga, not to mention, Helga is very sexy but strong and imposing when she's trying to be. I think Alice Eve could do that.
Honorable Mentions: Charlize Theron (I feel like she's the obvious choice but I wanted to try someone else).
Vincenzo "Vinny" Santorini
So, I don't think it's ever said if Vinny is Italian but I think it's pretty implied. He's pretty funny but not because he does anything that's funny but because of how he talks and his delivery in his dialogue. He has some of the best dialogue in the film. He used to run a flower shop but after an explosion (that he survived) he became a demolition expert. He's a likable guy even though he's very deadpan and snarky with great one-liners.
Top Choice: Bobby Cannavale
Again, another choice I was thinking about and of course Sacha Baron Cohen is always everyone's choice and he'll be fine (maybe a little annoying as he can be)but I think Bobby Cannavale would be a surprise and fun in the role. He can come off as a villain depending on his energy which Vinny surprisingly does later but he also can be very likable and funny.
Honorable Mentions: Justin Baldoni, Sacha Baron Cohen (Obvious choice)
Dr. Joshua Strongbear Sweet
He is a medic who is of African American and Native American descent. He is a medical officer and the first one to take Milo in and is very open about who he is and what he likes to do and he's very kind and almost a mentor in ways to Milo. I mean he does warn Milo about their teammates quirks lol. He of course is on the team with the others in betraying Milo and finding the crystal but when the King gets hurt, he turns on Rourke because he is not for violence. Also, Phil Morris voices this character and that man is one of the best voice actors!
Top Choice: Isaiah Mustafa
As soon as I posted up the cartoon photo from the film of Dr. Sweet, Isaiah Mustafa immediately came to mind. He'd be perfect. Phil Morris was so good with his rapid-fire delivery that I think Mustafa could emulate that while also making him his own. The only big difference is that he's not super buff but he's tall and imposing, especially when he's just standing there with the right look. I like him a lot and I think he would have both that charm that Dr. Sweet has especially since he's always at 100 no matter on his mood.
Honorable Mention: Terry Crews, Henry Simmons
Audrey Rocio Ramirez
Audrey is an 18-year-old Puerto Rican mechanic. She is the chief mechanic of the journey and she does whatever she can to keep the Ulysses running after it's Leviathan. She doesn't particularly like Milo that much, especially when he fixes one of the machines but she does warm up to him later. She does side with Rourke in the beginning but she feels guilty and is one of the first of the group to side with Milo. Audrey is feisty and I know she is very liked by many fans because of her personality and really nice animation.
Top Choice: Cierra Ramirez
I haven't really watched Cierra in her respective shows and she's not Puerto Rican but she does have the look that Audrey has. Otherwise, they can find someone who is a new actress for this role.
Honorable Mention: Melonie Diaz (she's too old but she can register a little younger sometimes)
Other Supporting Characters
Wilhelmina Bertha Packard
She's an elderly, sarcastic, chain-smoking radio operator. She's very cynical and does her own thing. Helen Mirren would be perfect for this role and this is the only time I would obviously cast someone because Helen Mirren would be great. We can make this character British lol, I love when she's all sassy.
Top Choice: Helen Mirren
Gaetan "Mole" Molière
Mole is a French geologist who acts like a mole. He's a little weirdo, he burrows into the dirt and is very flirty though he is quite dirty. Everyone seems not to take him seriously when it has nothing to do with the expedition or his field of study. He's funny, so I think it's important that whoever plays him, maintains that energy that he has without making him come off as a pervy person. I mean, he's a perv lol but there's a line. That sounds weird but you know what I mean. Maybe Mark Hamill? He came to mind afterwards lol. He does a great job in The Flash with his villain character. Otherwise, perhaps find a little French man? lol
Top Choice: No one right now… maybe Mark Hamill??
Honorable Mentions: I would have said Timothy Spall as my top choice because I mean obviously lol, but I'm not sure what's going on with him health wise (google him), so I'll just put him here.
Preston B. Whitmore
Preston B. Whitmore is an eccentric millionaire who funds the expedition to Atlantis. He's a bit mysterious because no one knows much about him but he wants to fund the expedition because he believes in it and he believes in Milo. He's there in the beginning and more towards the end. If I remember, he's into Yoga and all that so whoever plays him needs to be able to maintain his mysteriousness. I think with him being a bit odd, the actor should really make sure he's charming enough to get Milo on board, but also, you're not sure where he stands.
I don't have a top choice right now but I have some options here: Kelsey Grammar, Jeff Goldblum, Donald Sutherland, Dick Van Dyke (lol), Ben Kingsley, Patrick Stewart
Jebidiah Allardyce "Cookie" Farnsworth
He's a very minor character but he's likable and memorable. He is a Western-style chuckwagon chef. He's quick talking and humorous. He makes some of the weirdest concoctions.
Top Choice: William H. Macy
King Kashekim Nedakh
Kashekim Nedakh is the king and ruler of Atlantis at the height of its power. He makes some bad choices that causes Atlantis' downfall and then results in him losing his wife to the Crystal and his eyesight because he looks directly at the crystal. He's protective of his daughter, very strict and is against outsiders in his kingdom. Understandable. His role is very small, but he comes off very wise but kind of harsh in ways and then his last scene is supposed to be very apologetic and you understand him. I have a few actors who would be great in this role but if we are shown flashbacks of when the city was ruined, then this actor would need to be able to move quickly enough to save his daughter from seeing the crystal.
Top Choice: I actually really like the idea of Sidney Poitier playing this role because he's a legend and I think he has that regality to him that this character would require. They can de-age him and then have a stand-in do the movement that's needed for the flashbacks.
Honorable Mention: Morgan Freeman, Giancarlo Esposito, Mahershala Ali (for a younger dad but since their lives are much longer than regular humans and because I love him lol).
Soooooo, this one took me a while because there are sooo many people in this movie lol and I wanted to make sure I had some good choices in there. This is my list of who I think would really do a great job for this film. It would be great if they LISTENED TO ME but that's fine.
What are your thoughts on this fan casting? Let me know your thoughts and who you would like to see bring these roles to life?
Thanks for reading!